Peter Baker, Magnification Pastor at St Paul's Anglican in Carlingford Australia, had been in his role for around six months when he first encountered the Emu Music team. Although he'd known about Emu and their music for some time, and they sang some of their songs in church already, he didn't know what a resource they were to become for his ministry teams.
Peter shares, "I went along to a Word in Song conference with a couple of key leaders. I thought what Emu was doing was great and wanted to figure out how we could access their training with a larger number of our crew."
At the conference, Peter learnt about church partnership possibilities. He eagerly reached out to the Emu Music team afterwards to find out what that could mean for St Paul's.
Bespoke training for a unique church
As a large parish with seven services and multiple music and Sunday ministry teams, Peter was highly aware of the potentially different needs of St Paul's compared to a smaller church. This was something that he found Emu Music were both aware of and experienced with helping.
In late 2022, St Paul's entered into a church partnership with Emu, with a bespoke twist. He says, "Emu's willingness to meet us where we are at has been really cool. They've been really happy to hear what's going on for us and to tweak their offering to serve us the best they can. They've been very generous in terms of the time, effort and energy they've invested in our partnership."
To serve the needs of the large music ministry team, Emu Music worked with St Paul's to put on an 'in-house Word in Song' of sorts. Peter says, "Because they were willing to be flexible and think outside the box a little, we were able to get over 100 people from our church our teams on site engaging, which wouldn't have been possible if we'd been trying to get them to travel to a conference elsewhere."
The event ran much like a public Word in Song conference, but with the program designed to combine the skills of Peter and the Emu Music team and to serve the context of St Paul's specifically.
Peter shares, "I did the Bible teaching and they gave us their church music masterclass and question time, which was really excellent. Then we had a bunch of workshops on what would be most helpful to our church. One for song leaders, one for instrumentalists and one for techies. Each aimed at what I felt were the most necessary growth areas for each of those groups."
Peter saw his teams experience immediate fruit from the conference when they approached their ministry.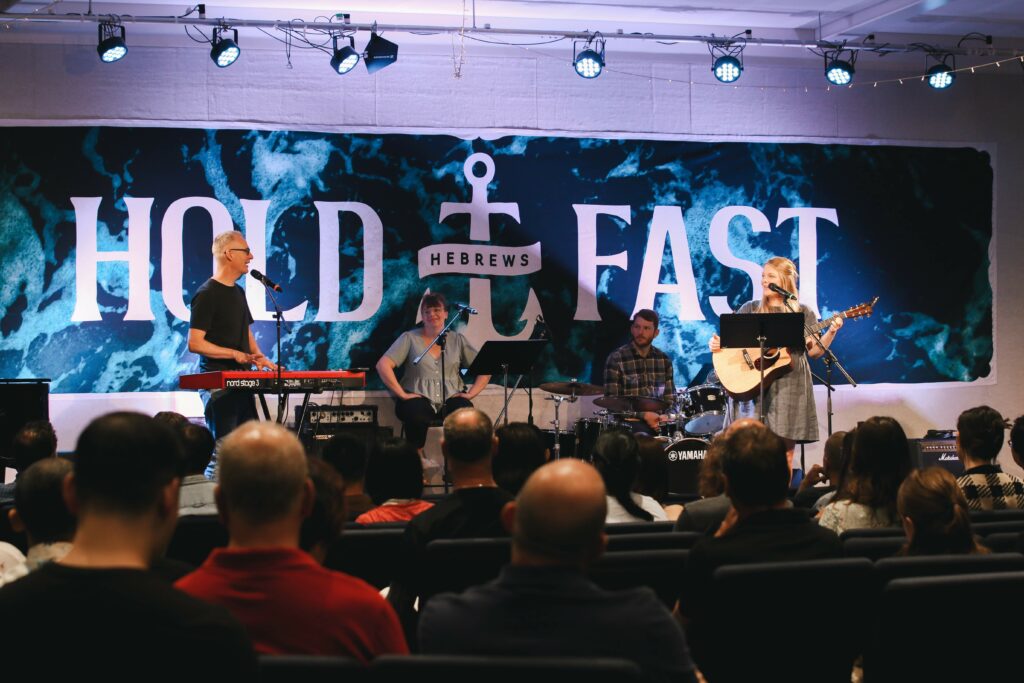 Powerful ongoing partnership
Reflecting on their experience as a church partner, Peter sees the live and in-person training as worth all the value of the partnership. He says, "95% of the value we extract from the church partnership has to do with the team themselves and having our team spend time with their team."
That last '5%' he attributes to the access to their sheet music and other song resources. Peter reflects, "Access to their online sheet music resources is helpful. It's useful that they have geared things like the keys that they sing songs in, to keys that a congregation might actually want to sing them in…which not always the case amongst Christian music producers."
He says, "What's great about partnering with Emu is that they get it. They get what singing in church is about and their offering in all the spheres actually reflects that. So they're good to partner with in training, in resources and in songwriting, because they just have a really clear vision for serving God's people in lifting their praises to God together."
Peter also appreciates that being an Emu church partner isn't an expectation to only sing Emu Music songs (although they love to sing them), but rather for people to be trained better for music ministry in a biblical and practical way.
"Emu have this capacity to help music teams catch a biblical vision and then execute that vision practically in a way that I just don't really see other organisations providing. If we didn't have them, we'd need to invent them."