Since officially starting in 2001, Emu Music have released over 600 songs. They aim to produce new congregational music rooted in the Bible, to resource the Church with songs rich in Scripture to sing to God and one another.
From songwriting to arrangement to production to release, their music is part of fuelling the church's edification, thanksgiving, prayer and praise. This is something that Wayne Connor has seen firsthand.
Music as a ministry of the Word
Wayne is a Pastor at Dubbo Presbyterian who has a long history with Emu Music. He shares, "Philip Percival was actually from Dubbo. He was writing songs in Dubbo, and we were singing his songs before they were actually released, and before Emu Music existed."
As a parish with multiple services with varying resources amongst their congregation, Wayne values that songs from Emu Music are relevant and singable across all their congregations. The clear way their songs are written from a Bible passage or use systematic theology to explain a theme biblically is invaluable to his church.
He says, "We're often looking for songs that are on a topic. So you're preaching on a passage and you want your whole church meeting to be thinking about that issue. Sometimes songs can be quite generic and it's harder to find a song that's on a specific topic like judgment or the return of Jesus or living a holy life. Emu now has such a catalogue of songs that most times we can find a song on the topic we want."
For a recent series on 1 Peter, the Emu song 'We Declare' fit the themes of the book perfectly. Wayne shares, "We made that our theme song for the series, and people really resonated with it."
Another example of a song of Emu's that is ministering to Dubbo Presbyterian is the song, 'Your Word.' Wayne says, "We've loved the song, 'Your Word'. We use it not only when we're on the theme of God's word, but often before the Bible reading to prepare us to hear from God's word. That is a song about God speaking through the whole Bible, but how it culminates in Jesus. I love the Christ-centredness of their songwriting."
Biblically truthful music that captivates God's people is essential for churches around the world. This is something Wayne sees Emu as providing. He says, "When a song is popular it doesn't necessarily mean the words are faithful to the Bible. It's good to have popular songs like the ones Emu write that are both musically engaging and deeply biblical."
The accessibility of their songs is also something Wayne appreciates. The ease with which his music teams can download sheet music or watch the playing of the songs on video make Sunday music ministry a lot easier. He says, "A lot of churches like us only have a piano and a guitar, or just one instrument. Emu Music have songs recorded like that, which give musicians confidence that they can play it."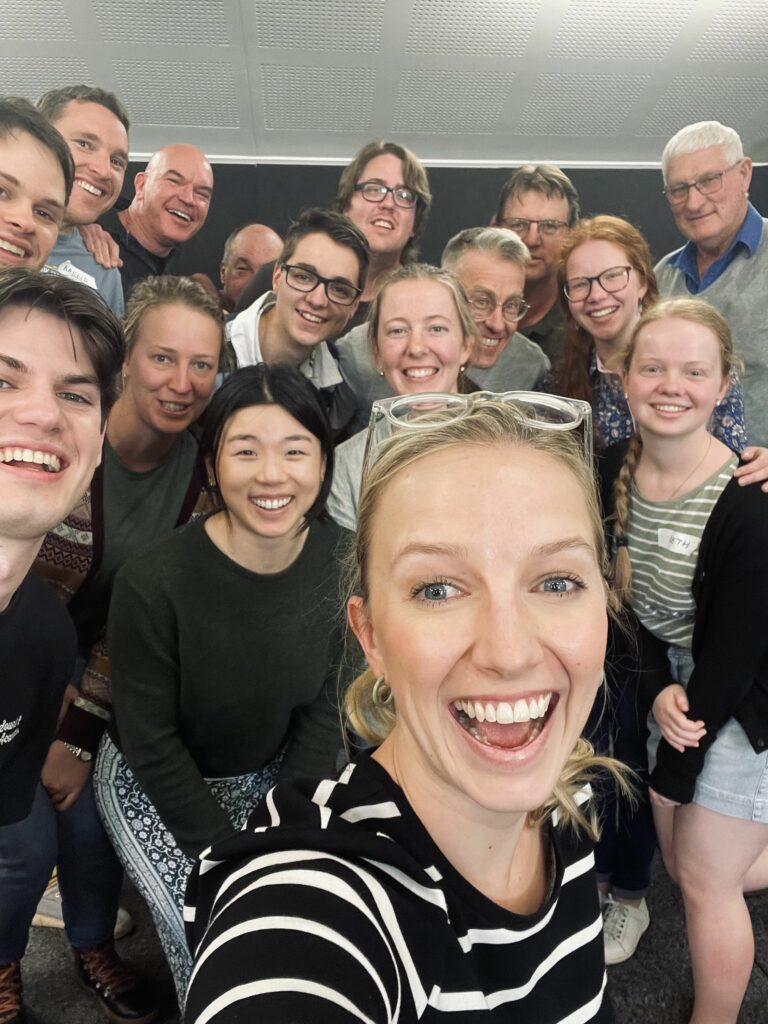 A new language for ministry teams
In addition to their music, Wayne has seen the value of their training in his church. Initially, they sent some of their musicians to an Emu Music Word in Song conference that happened in Molong NSW. After seeing the great training and vision they returned with, Wayne organised for some training in Dubbo for their parish in 2022.
He says, "We're not super resource rich in terms of being able to train people. So we kind of needed Emu to come and help us with that. Liv and James (from the Emu team) came out for a Saturday and ran a workshop with each of our bands." This willingness to come out to their regional church was extremely valuable.
The music teams from Dubbo Presbyterian played for Liv and James, who analysed the way they worked together and gave them specific feedback and tips. Wayne recalls, "They were able to encourage the most inexperienced musicians with simple tips, as well as give appropriate advice to very competent musicians and band leaders."
Throughout the day, everyone learned from each other and ended sessions with practical tips plus a universal language to use together. Wayne says, "We just had this new language to talk about how we did music and we've been using that language since then."
Wayne says there is no need for other pastors to take him at his word about the value of Emu Music, simply explore their music for yourself and you'll find yourself convinced. He says, "Check them out for yourself. Get some Emu songs on your playlist, start soaking yourself in them. And I'm sure you'll start using them."