Imagine standing up in front of a large group of people, trying to get them to sing songs with you about Jesus, when only a small number of the congregation are Christians.
Now imagine the people in the congregation are somewhat cynical teenagers, you're only 14 or 15 years old, and these are your peers.
Sounds pretty hard, right?
This is what it's like for many young Christian students at Christian schools around Australia who volunteer to join their chapel bands. While leading music at church can be challenging, that's nothing compared to trying to get a room full of your teenage peers to sing along!
This is something Emu Music is actively working to aid schools and students with through their 'Emu Goes to School' training program. In 2023, Abbotsleigh Girls High School in Sydney had the Emu team out to run training and to encourage their students.
Young people stepping out in service
Year 11 student at Abbotsleigh Emma shares, "The hardest thing about being in chapel band is singing in front of other people about God, as sometimes it can be hard to do these kinds of things in a more public setting, working past being scared of judgement."
But Ben Hunter, Christian Studies teacher at Abbotsleigh, says of the chapel bands at his school, "I admire these girls who get up and sing with conviction in front of all their peers. It's a very brave thing to do and they do it with such joy."
Chapel band at Abbotsleigh is somewhat unique, because being a member is actually quite popular. They in fact have six chapel bands that rotate, sharing the song leading duties. There's one each made up of Year 8, 9, 10 and 11 students, plus a Year 12 and Year 7 combined band, and a band for boarders' chapel on Monday evenings. They have pianists, guitarists, bass and singers, but there are also some keen students contributing on melody instruments like violin, French horn and trumpet.
Nevertheless, even with bigger bands and brave participants, Ben thought the chapel bands at Abbotsleigh could use some extra encouragement for their difficult task, and some specific training to equip them. That's why he decided to invite Emu Music to bring their 'Emu Goes to School' program to Abbotsleigh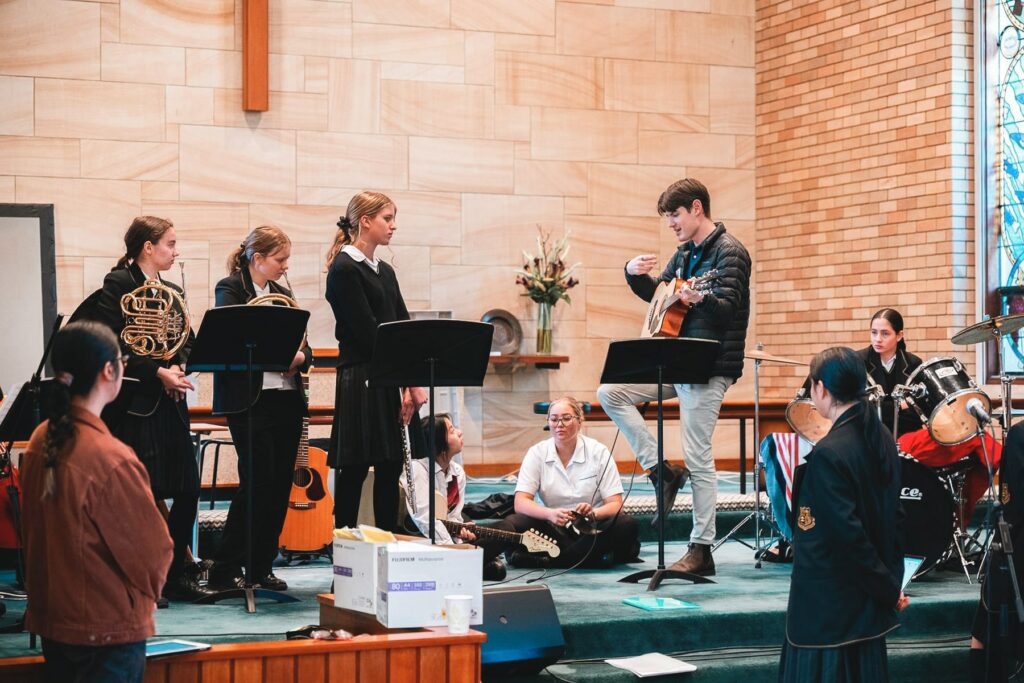 More than just growing musical skill
Emu Goes to School is a musical package specifically designed for the school context. Members of the Emu team come into Christian schools to deliver seminars, workshops, talks and perform acoustic concerts, all designed to help students grow in their skills and understanding of Christian musicianship and leadership.
There are multiple programs that schools can select from for their specific needs. For their visit from Emu, Abbotsleigh set aside a whole day for the chapel band students to be excused from class, so they had a Bible seminar, a music masterclass, instrument seminars and a songwriting workshop. The Emu team also played in chapel for the whole school and performed a short concert for the lunchtime CRU group.
The whole day was extremely well received.
Year 9 student Lucia shared, "The Year 9 chapel band have all loved meeting Emu Music and because of this incursion many of us have been motivated and encouraged to start writing songs for our churches. It was very inspiring for many of us, and we really gained a lot from this incursion!"
Year 10 student Chloe agrees, saying, "It was a really encouraging and helpful day for all of us. I'm sure everyone got something out of it, whether that be a practical tip on playing as a band or a spiritual reminder of the reason we serve."
Teacher Ben found Emu's thoughts on arrangements for the bands particularly helpful. With quite a number of girls wanting to participate in chapel band playing less traditional instruments for congregational music, Ben has been downloading harmony parts from SongSelect to give them something to play, but has been concerned that this may be distracting.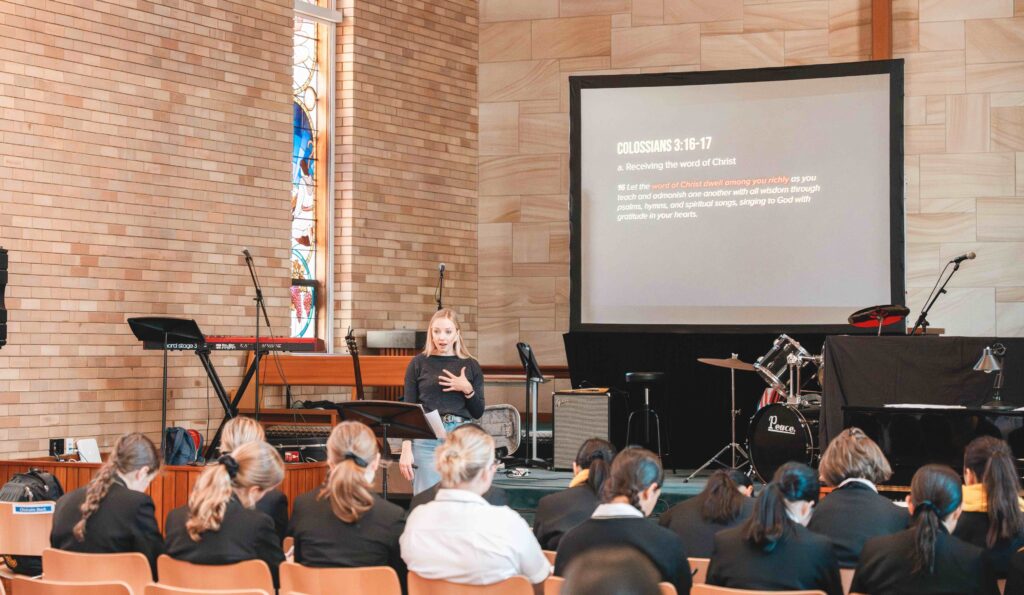 "Emu gave thought-provoking input about how to use melody instruments in a chapel setting. Liv reminded us that the priority should be on getting everybody to sing, so the song leaders should be the most clear part, so the school is given every opportunity to sing well. We've got to find ways to use those instruments in ways that add to the song and don't distract. How do we develop these musicians to sit back and find an opportunity to support? It's very different from the training they are getting in their other ensembles at school."
He was also encouraged by the comments of one Year 9 student, who said that Emu's visit had opened her eyes to a possible future career. "Having seen these people come in who are music pastors in their churches and who work to equip other musicians, made her feel like this could be a direction she takes in her life," Ben shares.
Overall, Abbotsleigh was very grateful for Emu's visit. Ben says, "I would definitely recommend getting Emu Music in to help train, develop and sharpen the thinking of chapel musicians. The practical band workshops and masterclass were especially valuable."
Year 11 student Emma sums up, saying, "Thank you so much! We all really enjoyed the experience, and your knowledge and wisdom for leading in worship is truly invaluable to us in chapel band – we were so blessed to have you come and teach us!"